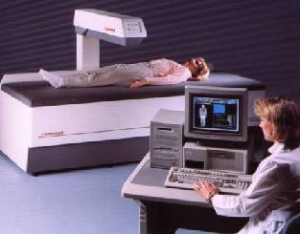 Have you ever thought of undergoing a bone density screening? Are you predisposed to osteoporosis or you just want to feel secured health wise? Are you engaged in a sport or interest that will be pretty much ruined should a fracture occur? If by chance you say yes to any of these, then it seems you need to have a bone density screening now.
Dual-energy X-ray absorptiometry (DEXA) could be one of the diagnostic tool that may be used to appraise the bone mineral density (BMD) of a patient in conjunction with bone density screening and to establish facts about the case.  The results are quite important as these will determine future actions in terms of treatment and diet. Early diagnosis is beneficial because the future of the patient with potential risks of fractures and other related injuries are procrastinated, even prevented thus saving a life, a career or both.
Who are most likely to acquire osteoporosis thus need to submit to a bone density screening? Elderly women, especially those who are about to go through menopause at age 45 and above most, especially women 65 years old and above are mandated to go through bone density screening. Menopause is a stage when the estrogen, a sex hormone found abundantly in females, is not secreted anymore. Estrogen functions also in building bone density and this reason why older women are particularly vulnerable. The susceptibility of aging men is likewise increased due to reduced testosterone, a male sex hormone that is converted in part to estrogen.
People using corticosteroids as a therapeutic drug and women using birth control pills that interact with body hormones may also run the risk of early bone loss. Those whose diets have been poorly laden with bone nutrients, calcium and vitamin D, and who have not given the bones the dedication to be worked out with regularity, must be advised to seek early bone density screening.
If your life's passion requires the use of your body to athletically compete or artistically express yourself, then consider having that screening because early diagnosis will save your future as an athlete or as an artist.