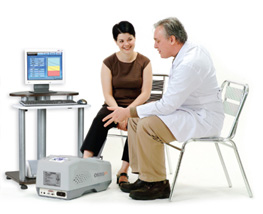 If bone loss is a potential threat, the medical recourse is to submit oneself to a bone mineral density (BMD) test to find out the true state of the bones at that point in time. The findings from the test expressed as T-score and Z-score are significant because they work as the backbone of the treatment program to manage the medical case of the patient. The problem lies now on the interpretation of these bone density T-score and Z-score.
The World Health Organization (WHO) reviewed the global data on the testing of bone mass and the risks of fractures in 1994. In order to have a common approach in the analysis and understanding of bone density findings, the T- and Z-scores were adopted basing on a comparison with a standard that has normal bone density. A deviation from the normal is taken to indicate lower bone density.
What is a bone density T-score?
The T-score is actually a mathematical expression showing the standard deviation from the mean of the sample taken from a particular reference population. This is done by comparing the bone density of the subject to that of the standard which is another adult, usually a healthy 30 year-old, and of the same gender. The deviation is expressed to indicate the status of the bone health of the patient. Normal values are from -1.0 through +1.0 while high bone densities have T-scores of +1.0 through +4.0. Low bone density is indicated by values below -1.0. T-scores of -1.0 through -2.5 indicate osteopenia while lower than -2.5 suggest the presence of osteoporosis.
What is meant by bone density Z-score?
The Z-score represents a comparison of the bone mass of an adult to the bone mass of another adult having the same gender and age. It is assumed that the standard has a normal bone density. A Z-score lower than -2.0 is alarming and can indicate low bone density or losing bone rapidly. The presence of secondary osteoporosis due to other diseases and drug interactions are real possibilities and they can be highlighted as Z-scores reveal.
The true integrity of the bone can be ascertained using bone density T-score and Z-score as foundation. Their examination is critical for all stakeholders. The understanding of which is as essential to the doctor as to the patient for successful treatment and management of osteoporosis and the prevention of future risks.
Image: Taiwan Life Support Systems