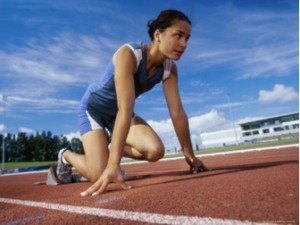 CoQ10 is Produced in Mitochondria
CoQ10 from Q10 Nutritional Capsules is derived from the human compound called Co-enzyme Q10. It is naturally found in every human cell and is produced in the mitochondria, the "powerhouse" of the cell. Its main function in the body is to provide energy to the muscles and organs to make them work effectively. This function is very important for athletes and sports professionals.
Athletes need to have enough energy to accomplish the physical effort in their chosen sport. In this respect, CoQ10 capsules play a major role in their profession. They not only increase the amount of energy in the body, but they also distribute it throughout the body more efficiently.
CoQ10 is a Natural Compound
CoQ10 is naturally found throughout the body and is especially concentrated in organs that require the most energy, like the heart and the lungs. Athletes rely on good lung capacity and strong heart muscles to do their work. It has been shown that athletes have higher CoQ10 levels in most of their muscles because of the amount of energy they use.
On the average, a sportsman gets only about 3 to 5 mg of CoQ10 from dietary sources. Even if he loads up on foods that are high in CoQ10 such as fish, animal meats and vegetables, they can only consume around 9 to 10 mg of CoQ10. Taking Q10 Nutritional Capsules, however, can help athletes safely boost their total CoQ10 intake to 50 to 200 mg daily.
Q10 Nutritional Capsules not only increase energy output and improve performance. They also contribute to the overall health of the athlete. Increasing one's energy can improve the immune system and metabolism. With this, the body is better protected from illness and injury. Athletes are at greater risk for injuries but CoQ10 provides a high degree of protection for them.
CoQ10 is Highly Recommended for Athletes and Athletic Trainers
Presently, CoQ10 is highly recommended for athletes and athletic trainers because of its sports benefit. In addition to that, general health benefits are also gained. CoQ10 is perfectly organic and natural, making it safe and effective for most athletes and sportsmen. Q10 Nutritional Capsules are delivered in a dry naturally fermented base which allows the CoQ10 to be quickly absorbed in the bloodstream to produce energy.
CoQ10 Helps Improve Endurance
Some athletes say that CoQ10 also helps improve endurance. While it is true that strenuous physical activity lowers blood levels of CoQ10, more investigation is needed to determine its effect on athletic performance.
A few studies used at least four weeks of CoQ10 supplementation at 60 to 100 mg per day. Subjects have reported improvements in measures of work capacity ranging from 3 to 29 percent in sedentary people and from 4 to 32 percent in trained athletes. However, recent double-blind and/or placebo-controlled trials in trained athletes, using performance measures such as time to exhaustion and total performance, have found no significant improvements in those taking CoQ10.
Athletes and fitness enthusiasts may claim benefits for CoQ10 based on their personal or professional experience. These individual opinions and testimonials may or may not be supported by controlled clinical studies or published scientific articles about CoQ10, but you can see for yourself if it really does work.